The Transformational Journey Level II
Purify Your Inner Light
Transformational Journey ~ Level ll
• Journey level 1 is a prerequisite.
January 18th-21st, 2024
About The Transformational Journey Level II
The Transformational Journey is a powerful training that provides tools for you to heal from the inside out, by purifying blocked emotions stored in your heart and detaching yourself from preprogrammed thoughts and reactions from your past experiences. It is training like no other that allows you to cleanse your mind and purify your heart with one-to-one support and attention from the head trainers.
You will learn a proven process that is unique and unmatched for creating powerful change in your everyday life.  The Transformational Journey allows you to gain positive emotional control over your life.  Negative emotional reactions, such as bursts of anger, sadness, depression, frustration, fear, anxiety are all responsible for preventing you from achieving your goals and life that you know you deserve.  In order to have lasting behavioral change, it must happen on an unconscious level.  To change consciously, is nearly impossible.  At The Transformational Journey you will learn techniques that will allow you to heal on an unconscious level and release the effects of past negative emotions and memories that have been pre-programed.  
Our goal is to equip you with tools so that you can shed the pain from your heart and move forward from a place of inner strength.  When you recognize and release your attachments to your inner wounds and strong emotional bonds, it creates space so you can live a life full of confidence, happiness, joy, independence and health from the inside out. 
Purifying and releasing the pain that is stuck in your heart and creating havoc in your mind, is an empowering way to catapult your life into a life of freedom, inner peace, self-love and long-lasting happiness. Your soul is yearning for you to deeply love yourself and live a fulfilled, thriving life. This is your birthright.  
This course will take you there.
The Transformational Journey is a 4 day experiential training that reconnects you to your higher self and awakens you to a POWERFUL gift, one that keeps on giving for the rest of your life.
Morning Session:
Morning Yoga session
Fountain of Youth exercises
Sunrise Guided Meditation
Healing Cleanse Breakfast
Advanced group work which includes a variety of personalized exercises to begin to cleanse your mind and purify your heart to experience inner peace and freedom
Intentional Breathwork

Healing Cleanse 

 Lunch
Afternoon session:
Advanced Group Work: Personalized experiential exercises to provide you with tools for you to start the process of purifying blocked emotions stored in your heart and freeing your self from the bondage of your thoughts and past experiences
Sound Healing

Healing Cleanse 

 Dinner
Evening Guided Meditation
The Release Process
Meditation
Sound Healing
Nourishment
Accommodations
The Release Process
The Release Process is a process that activates the unconscious mind by putting the client into a state of witness consciousness. From that state; using the unconscious mind, the client can access the stored negative emotions from their past stored events such as anger, fear, sadness, hurt and guilt. Accessing the stored emotion from the witness state, it allows the client to impart wisdom intended from the event itself only when the emotion and the memory are separated – is this achieved. This process eliminates self-limiting beliefs that hold a person back from pursing the life that they want and dream of.
This is a powerful skill that once refined a client can use it in their everyday life so that outside circumstances no longer dictate your emotions, inner dialogue, actions or reality. You become the master of your own life and begin living a life in witness consciousness.
Meditation
Sound Healing
Nourishment
Accommodations
What Our Graduates Have to Say
"I've struggled with life for a long time… lost jobs, lost relationships, and chronic pain due to injuries. I tried so desperately to be happy, but no matter what I did—I couldn't truly get there. Most recently the isolation of the pandemic and a soul sucking job put me into a pretty deep depression. I didn't even realize how much I let my spark die until the Journey. When I went to the Journey, something was awakened in me—my true self! I felt so free to be me again…like truly be myself. I couldn't let my journey end there so I went to Transformation which only propelled my happiness and success to the next level. Transformation helped me learn to open my heart and allow myself to feel the rainbow of emotions that lives inside of me. I learned tools to help me better cope with the obstacles and stress life is bound to have. Since attending, my life has truly been transformed. I found the clarity and courage in myself to leave my job for one better aligned to me. I've been connecting with incredible people that enhance my life. And I'm simply having FUN living life! I'm beyond grateful I had this opportunity and would highly recommend it to everyone."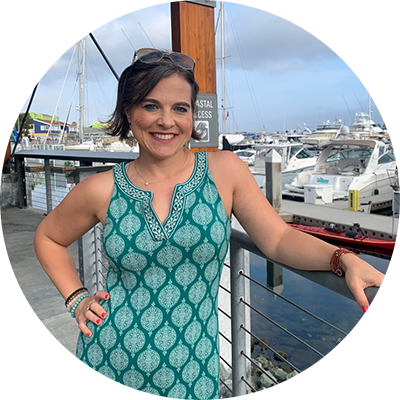 Stefanie, Sr. Instructional Designer