The Transformational Journey Level II
Purify Your Inner Light
Upcoming Trainings
Open to Level I Alumni: Due to Covid-19 CA. requirements, the tentative date for 2021 is to be determined. Thank you for your understanding.
About The Journey Level II
The Transformational Journey is a powerful training that provides tools for you to heal from the inside out, by purifying blocked emotions stored in your heart and detaching yourself from preprogramed thoughts and reactions from your past experiences. It is a training like no other that allows you to cleanse your mind and purify your heart with one to one support and attention from the head trainers.
You will learn a proven process where you become a watcher of your life and allow the world to do what it does and be able to process negative interactions and prevent you to be a victim of your life and your emotions.  When you recognize and release your attachments to your inner wounds and strong emotional bonds, it creates space so you can live a life full of confidence, happiness, joy, independence and health from the inside out. Purifying and releasing the pain that is stuck in your heart and creating havoc in your mind, is an empowering way to catapult your life into a life of freedom, inner peace, self love and long lasting happiness. Your soul is yearning for you to deeply love yourself and live a fulfilled, thriving life. This is your birthright.  This course will take you there.
Our goal is to equip you with tools so that you can shed the pain from your heart and move forward from a place of inner strength.
The Transformational Journey is a 4 day experiential training that reconnects you to your higher self and awakens you to a gift, one that keeps on giving for the rest of your life.
Morning Session:
Morning Yoga session
Fountain of Youth exercises
Sunrise Guided Meditation
Organic Vegan Breakfast
Advanced group work which includes a variety of personalized exercises to begin to cleanse your mind and purify your heart to experience inner peace and freedom
Intentional Breathwork
Organic Vegan Lunch
Afternoon session:
Advanced Group Work: Personalized experiential exercises to provide you with tools for you to start the process of purifying blocked emotions stored in your heart and freeing your self from the bondage of your thoughts and past experiences
Sound Healing
Organic Vegan Dinner
Evening Guided Meditation
Breathwork
You breathe over 23,000 times per day, and how you breathe determines the quality of your life. Your breath flow is unique to you and a reflection of how you live your life. The quality of your breath frees you or puts you in a survival state of mind. Training your own body how to breathe using your entire respiratory system is a big part of long-lasting self-empowering healing.
For example, if you are breathing only into your chest and shoulders, that is confirming to your body and mind that you are in '"fight-or-flight" mode, as opposed to "open and safe" mode. In short, you cannot feel ALIVE and perform your best when your breath is forcing your mind and body to stay focused on primal survival tasks.
At the Journey, you will practice breathing diaphragmatically — breathing in through the nose, filling up the entire belly, and expanding your breath all the way up to your chest. There's a physiological and neurological response that happens when you breathe in through your nose and into your belly, as it effectively calms your body and mind allowing you to return to an "open-and-safe" mode needed to regenerate cells and heal.
Your breath not only keeps you alive, but it also carries oxygen into your system to cleanse you, heal you, and protect you. Learning how to use your breath effectively can help you build self-confidence, invite joy back into your life, find your voice, and discover the truth of who you really are.
Meditation
Meditation is a proven powerful modalities that is used during the training . The benefits of meditation are multiple. With regular practice, subtle transformations take place in one's body, mind, and consciousness. One experiences inner peace, and along with that come greater clarity, understanding, and guidance from within. Meditation brings objectivity and intuitive knowledge of how to address the problems that arise in our everyday life. It brings greater harmony and joy to relationships and family life, awakening the capacity to give, and receive unconditional love. It harmonizes the life forces in the body, removing harmful stress and promoting health and vitality. Most importantly meditation, bestows an unshakable inward happiness and security amidst all circumstances of life being one with our divine truth.
Sound Healing
One of the healing modalities used at the trainings is Sound Healing. During sound healing sessions, large Feng Wind & Chau Gongs are accompanied by Alchemy Crystal Singing Bowls to experience its profound effect, mentally, physically, emotionally and spiritually. It is a powerful tool to cultivate and support deep relaxation and healing on a cellular level. The purpose of sound healing is to create a gentle, yet powerful experience that heals the body, clears the mind and is an instrument of personal transformational power.
Gong sound healing is the oldest and most powerful therapeutic modality, and is the gateway to heightened levels of awareness and consciousness. When your rational mind is in-active, such as in a meditation state, sleep state and during sound healing, your own DNA begins to repair itself.
Clinical studies over the last decades in areas of Neuroscience, Biomagnetism, Neuronal Plasticity, Psychology and even surgery has demonstrated that music and sound has a positive effect in assisting with medical recovery. From stress reduction, increasing circulation, muscular, metabolic activity and alleviating traumatic stress and recovery.
It is a powerful tool by which we are immersed in total sound and through our intuition we are brought back to our own optimal health and balance, our true nature.
Your Facilitators
Meet the light and the rock behind awakening trainings.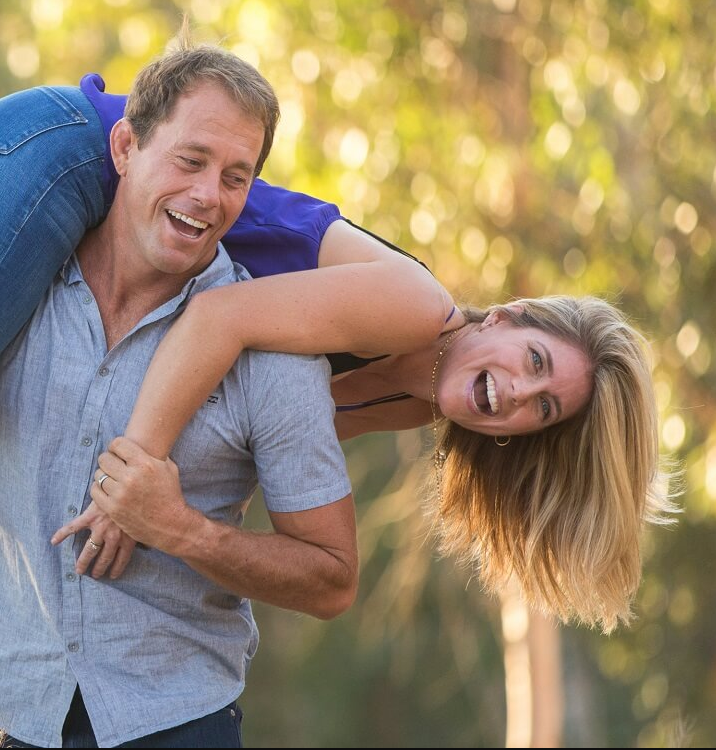 Kerry and Colin Smith believe everyone deserves to be happy and it is everyone's birthright to live a life that cultivates inner happiness, one that comes from within and could never be fulfilled with outward desires. It is only filled with inward clarity, stillness and passion for growth, ignited by one's own inner wisdom. They have Instilled the importance of inner peace and wisdom in the reality of their daily lives and has devoted a deep meditation practice twice a day as part of their very rigorous spiritual routine for the last 26 years.
What Our Graduates Have to Say